外國人也推薦我們的餐廳啦!!
文章轉自:http://taichungjournal.blogspot.tw/2015/11/tr-kitchen-fine-french-italian-in-beitun.html
---
T.R Kitchen Fine French-Italian in Beitun, Taichung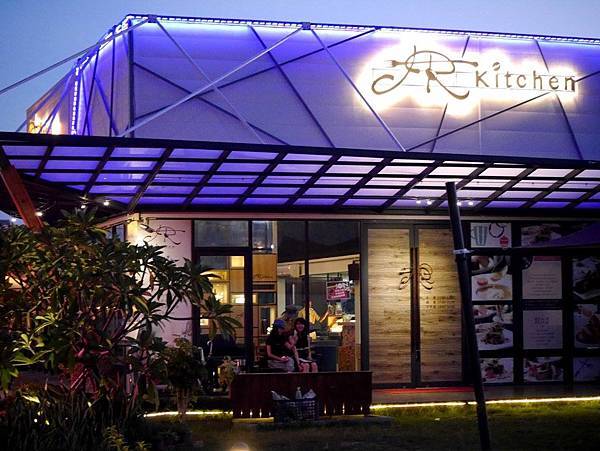 I rode home to my wife's consternation; why hadn't I seen her Line message? We were late to our dinner reservation! I forgot why it was so important to her to be at the restaurant on time; she had discount coupons that expired at a certain time.
T.R Kitchen, hurriedly built earlier this year in typical Taiwan Quonset hut style, is on a rented lot in the earthquake zone near the Dali River (take the new Highway 74 up Dong-Shan Road, turn right on Jin-Fu 13th Rd.) with pretty "Blue Sky White Cloud" steel bridge draped in LED lights a block away. All the lots around the newly developed area are empty weed gardens. This restaurant turned their empty next door to a heart-shaped sandbox for kids with parents for lunch menu. Just this one restaurant stood, a French-Italian menu, with an American fast-food strip mall name, "Time Relax" Kitchen, but the initials, T.R (missing the second period) made it sound debonair, if you use your imagination.
You had to use your imagination a lot to enjoy the experience at this entry-level elegance Taichung eatery. One day, twenty years from now, if it hasn't been demolished for the landlord to build another condominium, and if I am still alive and able to eat more than Ensure supplement through a straw, I will remember T.R Kitchen when it was new. It could be the foundation of burgeoning scene of fine cuisine with the other starter-bistros on the street popping up in the new Taichung Eastside, a potentially formidable counter-balance to the overblown (and over-priced) affluent restaurant scene on the Westside. Welcome to T.R Kitchen!
I have only one word to say about T.R Kitchen: tongue; Australian beef tongue, a tender topping of wine sauce over the risotto underneath. It had me taking out my smart phone to Goggle Junior's Restaurant in Brooklyn to remind myself of the Jewish-style hot beef tongue on rye (back of the tongue, please) but then, when I remembered I was in Taichung, and this was the only beef tongue in town, and it was accompanied by soft jazz, sometimes live, red wine, baby greens salad with a cube of head cheese, frozen citrus aperitif, braised fish appetizer, a basket of airy homemade dinner rolls with a dip of olive oil, cream of corn soup (the two weak spots on the menu), fresh brewed coffee, ice-cream and brownie-pudding dessert, with the cherubic teddy bear waitress trying not to look as green as the salad…did I mention you have to use your imagination to respect this restaurant? Imagination is all that you have to make it Paris, but at least the medallions of tender beef tongue in wine sauce were real.
My wife, meanwhile, had their seafood risotto, and loved it, too. The risotto was moist in seafood sauce and chock full of life-sized scallops, mussels, shrimp, squid, sautéed with flavor and taste. The price for the set dinner menu with a choice of entree was 750-1500NT, about $25-40 us. There was plenty of parking because there were no other buildings outside. Andy, the chef, a young man who learned his art at a four-star Westside hotel restaurant, got the idea of using beef tongue from his former master chef, but he added the vegetable broth and wine sauce that made it my future dream when something unusually good and Western are on my palate-mind. Nana, the maitre d' was a lovely host with time in the casual un-crowded six table dining area to chat with us after dinner. She called out Andy who was honored to have his dishes so highly praised by two former New Yorkers, one of them a Westerner.
Chef Andy
In Taichung, a city with a long way to go to before becoming an Asian Western-cuisine gourmet refuge like Taipei, which is nothing compared with Shanghai, which is nothing compared to Tokyo, Hong Kong, or any other Asian or American city west of New York and excludes the entire European continent. I have my list of Western restaurants with the city's one-only authentic dishes for steak, lamb-chops, cold cuts and hamburgers (Belling's), rye bread and sourdough (Finga's), French bread (Dance of the Bread), and pizza and calzone (Palio) that keep this ex-pat sane in this wok-crazy culture. Add now to this list T.R Kitchen for their seafood risotto, dreamy tender beef tongue medallion risotto, and give me no lip.
Beef Tongue Risotto
T.R Kitchen義法料理餐廳位在台中北屯區軍福十三路118號
有賣義大利麵、各式義式料理、法式料理及英式下午茶
適合公司聚會、團體聚餐、求婚等等
有五星飯店主廚團隊-
融義私廚團隊
日月千禧飯店極致燒烤餐廳
亞緻大飯店異料理、頂餐廳
六福皇室義大利廳
誠品 Tca Room
鄰近新都生態公園、藍天白雲橋、台中蝴蝶橋、台中大坑步道,停車非常方便!!
Facebook粉絲專頁:www.facebook.com/trkitchen118